The Cofactor team can most often be found in our St. Louis laboratory, or our San Francisco offices.  But, sometimes we hit the road to share our latest work with our customers, collaborators, and investors.
This February, the crew will be in sunny San Francisco for CHI's 24th International Molecular Med TRI-CON 2017 (aka Tri-Con).
There's some really exceptional science on the agenda.  You can hear from our CSO, Jon Armstrong, on "Reaching the Pinnacle: A Unique Cancer Diagnostic Tool that Harnesses the Power of RNA" on Tuesday, February 21 at 11:45 am – 12:15 pm in the Molecular Diagnostics track. And, we're certain the networking opportunities will foster crucial collaborations in the pursuit of personalized medicine.
Are you on the fence about attending?  What if we sweetened the deal?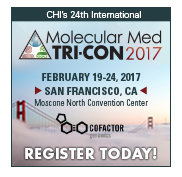 Friends of Cofactor Genomics can receive an exclusive discount code – 1737RAE – for $200 off your registration cost.*
How to Register:
Online: www.triconference.com/registration
Tel: +1 781-972-5400
If you've never attended the Molecular Medicine Tri-Conference, you can expect to meet 3,500+ international delegates for valuable networking, and attend programs on molecular medicine–specifically Discovery, Genomics, Diagnostics and Information Technology.
We hope to see you there!
View full details at TriConference.com.
* Our clients and colleagues will receive $200 off for commercial attendees or $100 off for academic, government and hospital-affiliated attendees. You must mention priority keycode 1737RAE to receive the registration discount. Alumni, Twitter, LinkedIn, Facebook or any other promotional discounts cannot be combined. Discounts not applicable on event short courses. This discount does not apply to previously registered attendees.