We looked at 25,000 genes
to find the 40 that matter.
These 40 genes power our models that predict which
patients will and won't respond to immunotherapy.
WE BUILD RNA PREDICTIVE DIAGNOSTICS
1. WELL-DESIGNED
CLINICAL TRIALS
Our predictive diagnostic tests identify the subset of patients who respond to treatment, leading to more successful clinical trials.
2. IMMUNE
PROFILING
Cofactor's ImmunoPrism platform uncovers each patient's immune profile using RNA from FFPE solid tumor specimens.
3. MULTIDIMENSIONAL BIOMARKER
Using our machine learning-based Predictive Immune Modeling approach, we bring together the most important immune signals into a predictive biomarker.
4. LAUNCH ONCOPRISM CLINICAL TEST
These biomarkers are used in our OncoPrism tests which help clinicians predict the likelihood a patient will respond to immunotherapy.
FOCUSED ON IMMUNO-ONCOLOGY APPLICATIONS
Using our ImmunoPrism platform in well-designed retrospective clinical studies, we discover multidimensional RNA biomarkers and build diagnostic tests under the OncoPrism name.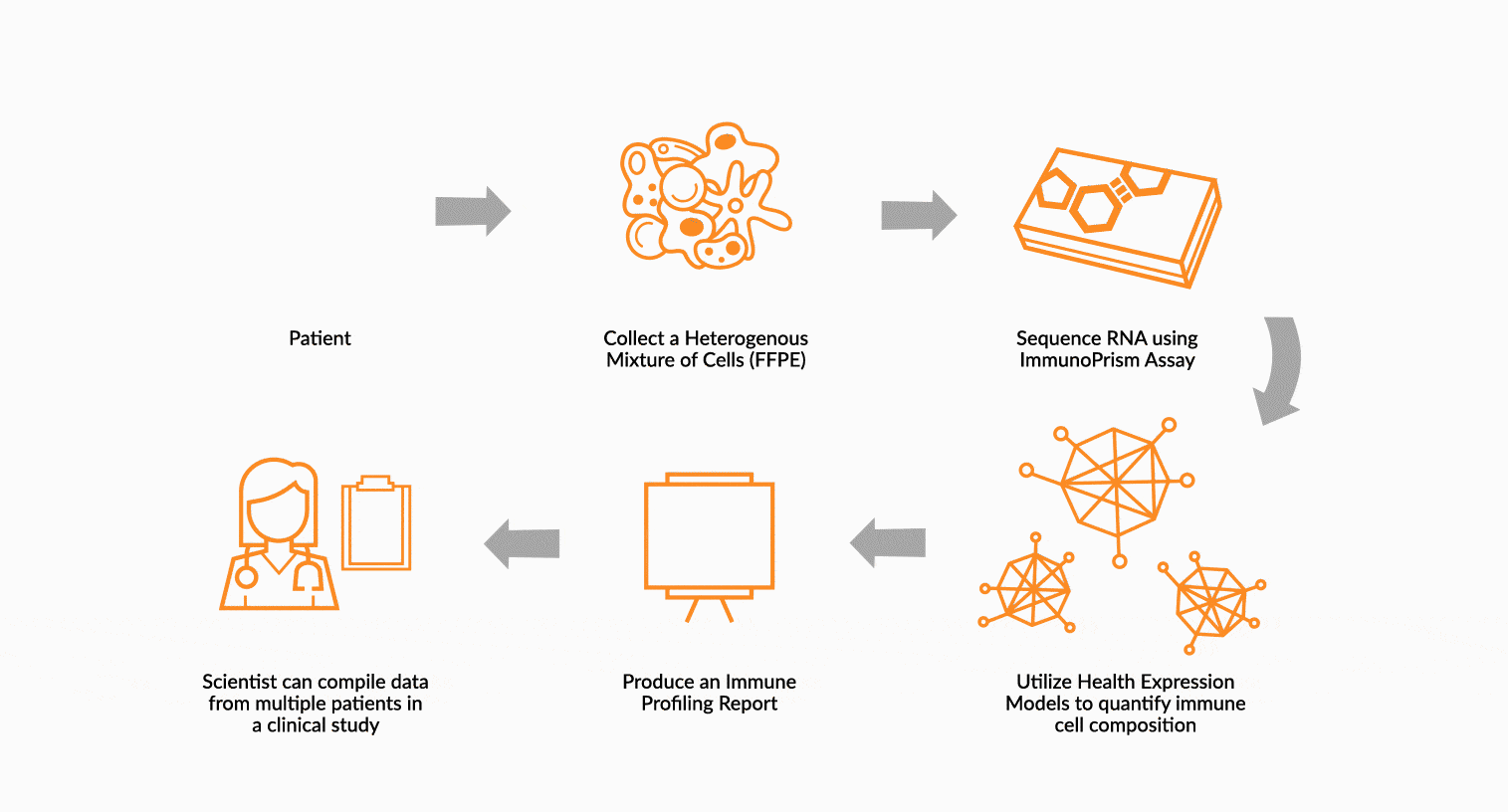 USE IMMUNOPRISM TO IMMUNE PROFILE PATIENTS
RNA is extracted from FFPE tissue collected from a cancer patient's tumor. This RNA is analyzed using ImmunoPrism ® and compared to our database of immune HEMs to quantify key immune signals including both cells and transcripts.
MULTIDIMENSIONAL BIOMARKERS
Move beyond single analyte to multidimensional. We build multidimensional biomarkers by using the immune profiling data from a well-defined patient cohort. The ImmunoPrism data is used in our machine learning software to identify the combination of analytes that will result in the highest predictive value. The performance of the biomarker is evaluated, and then validated.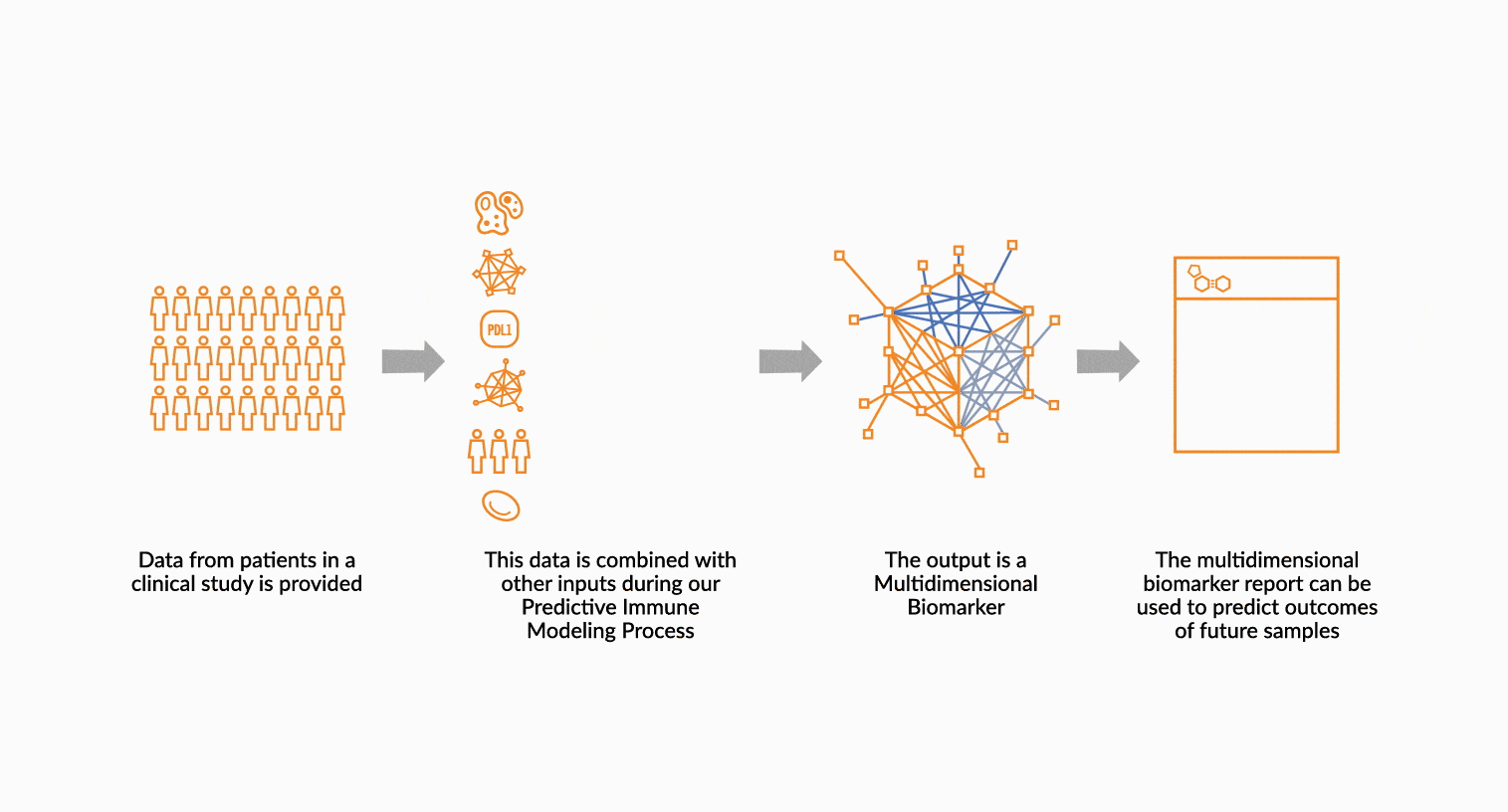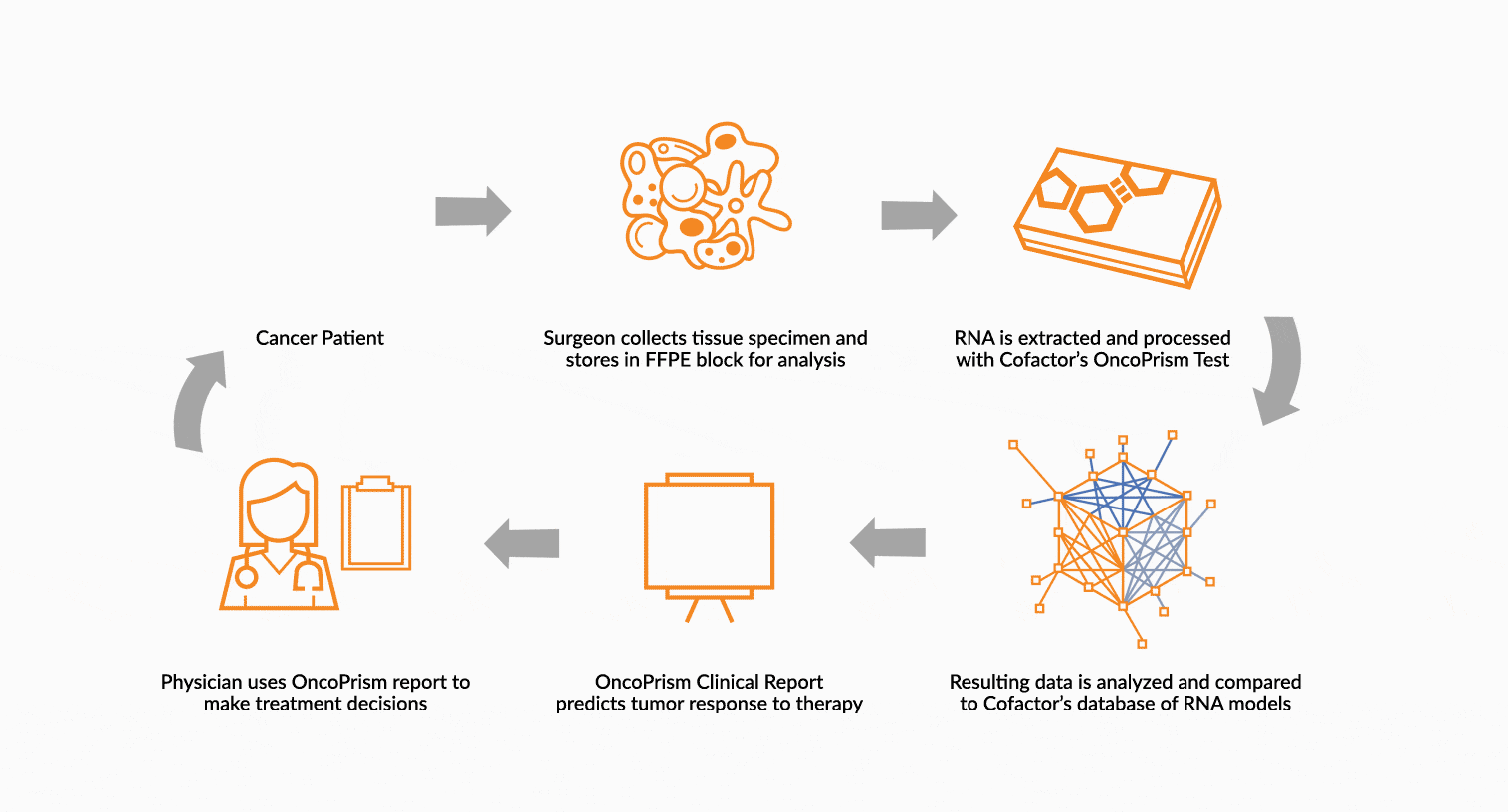 DEPLOY ONCOPRISM DIAGNOSTIC FOR PATIENT TREATMENT DECISION
Our predictive diagnostics, built using these multidimensional biomarkers, are deployed in our CAP/CLIA laboratory as a laboratory developed test (LDT). Prospectively, individual patient's immune profiles are analyzed and compared to the multidimensional biomarker to generate a Response Score which predicts likelihood of response to therapy. These results may be used in clinical decision making.
Cofactor offers products both for Research Use Only (not to be used as a diagnostic assay) and within our CAP-certified laboratory.  Please contact us to discuss which option is right for your application.