Past to Present: Cofactor Beginnings and Where We Are Today
Fatima is the Comptroller at Cofactor Genomics, and has had the advantage of starting when the company began. She shares a unique insight into the company's history and the growth we've experienced to be where we are today.  
Q: How did Cofactor first get started?
A: Cofactor started non-traditionally with a combo friends/family round and self-financing (one of the founders took out a 2nd mortgage) to buy their first sequencing machine. After operating as a contract research organization for many years and building RNA data assets, we were recruited by Y-Combinator, a San Francisco based seed accelerator for start-ups. At the time, we were one of the first biotech companies that YC accepted and part of a pretty phenomenal portfolio of companies, such as Airbnb, Dropbox & Stripe to name a few.
This seed round really helped us shape the next chapter of Cofactor, which moved us into the tools & diagnostic space, leveraging our RNA data assets in the huge growth field of Immuno-oncology. Fast forward to today, we have created a whole new diagnostic discipline called "Predictive Immune Modeling" and released our flagship product, ImmunoPrism.
Q: Are there any potential uses for ImmunoPrism that you find particularly exciting?    
A: I think the most exciting use of ImmunoPrism is in the oncologist's office, as it is there that the ImmunoPrism can most directly shape the patient's outcome. By better understanding their patient's disease, doctors can help patients get the most effective treatment much faster. ImmunoPrism's dynamic and multi-dimensional approach to measuring RNA can continue to give meaningful data to the doctor about the patient's response once treatment begins and give fast feedback so that the doctor can fine tune the strategy along the path to recovery.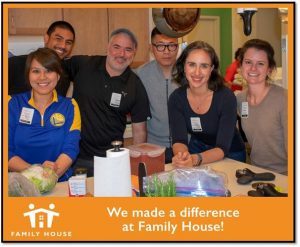 Q: What are some fun team activities Cofactor has done?
A: About once a quarter, Cofactor organizes a team activity. Some fun ones of the past are Whirly-ball, Escape Rooms, Epic Games and Scavenger Hunts. In between those, we host a number of social events like happy hours, in-house yoga practice and Lunch-n-Learns. But the most fun is when we do our community service, and interact with cancer patients. Our work at the Family House in San Francisco brings us together with children receiving cancer treatments and their families. Family House has a wonderful kitchen, and we cook food for about 40-60 folks and then dine, talk and play with the kids.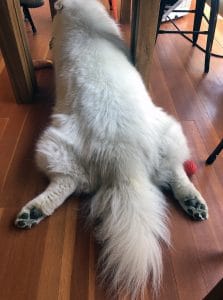 Q: Who is your favorite Cofactor dog and why?
A: Cofactor is animal friendly and has a long list of fur friends. My favorite past dog friend is Hobo, a beagle rescue found by our CEO, Jarret on a hike in Elephant Rocks State Park. Hobo would visit the office and sit on folks' feet to get some attention. My current favorite is Buddha, Jarret's new rescue, who was once deemed "unadoptable". Buddha's a gentle giant who comes to the office most days and finds a cozy spot, even under the conference table to sploot. Splooting is a special stretch – defined as a pet laying on their belly while stretching their legs out behind them. Buddha's a master-splooter (shown below)!